My Personal Path to Peace as a Christian Divorce Attorney, by Sean Smallwood, Esq.
As a Christian law student my aspirations of practicing law were rooted in the desire to help other people. To me nothing felt nobler than becoming a successful attorney who devoted his practice to defending those in need of help.
As my law school career matured and I drew closer to the day that I would be a licensed attorney I felt myself pulled more and more toward the practice of family law.
I had assisted other attorneys in both criminal defense and family law, however, criminal defense did not suit my inner desire to enrich people's lives. I felt I was simply helping people stay out of trouble and preventing them from learning lessons from the mistakes they made. Maybe I was in some way making their lives worse by holding them back from any meaningful change they would learn if only I had not helped them avoid punishment for their bad decisions.
However, family law was a practice area where I had the freedom to pick and choose my clients and ensure that I only represented the "good guy."
The only issue was that the most significant portion of family law cases consisted of divorce. This was a moral struggle for me in the beginning. Is this where God wanted me to be?
Everybody Knows That God Hates Divorce.
On one hand I could feel the pull toward family law as a career. On the other hand, I knew what the Bible said about divorce and the acceptable biblical circumstances for it did not exactly match up with the no-fault divorce laws in Florida.
Toward the end of my second year of law school, however, I had my quintessential "aha moment." I was interning for a law firm that handled both family law and criminal defense work when I overheard a conversation between two lawyers in the next office.
They referred to another attorney in town, a successful, well-known old-timer who was close to retirement. By the way they spoke about him I could tell they held him in high regard. This old-timer practiced only divorce law and required all his divorce clients to attend marriage counseling before he'd take their case.
As soon as these words hit my ears my face lit up. I felt like a kid on Christmas morning who had just unwrapped the gift he'd been asking for all year.
The answer was right there in front of me. The practice of divorce law could be noble, it could be righteous, and it could be done in a way that could honor God.
People Who Need An Attorney Are Going To Hire One Anyway. Better They Have Someone Who's Not a Shark.
That was the moment I realized it was probable that God could want an honest Christian person to be available as an option for people needing a
divorce attorney
.
From substantial experience I've learned that many people facing divorce appreciate attorneys who are out there in the trenches actually trying to save marriages. In a profession built on the death of marriage knowing there's at least one lawyer trying to bring them back to life means a great deal.
When someone comes for a consultation I always ask if they've attempted marriage counseling. If they answer "no" I present them with a plethora of business cards from different marriage counselors in town. I'll strongly encourage them to attend marriage counseling too, and remind them of this option multiple times throughout the process.
Of course, there are certain cases where counseling would be inappropriate such as where domestic violence or substantial addiction is involved. Also, if the parties have been separated for a long time and both have already moved on I find that having the "marriage counseling talk" is pretty much a lost cause.
However, I am happy to boast that at least once a month I have a client who tells me they want to put their case on hold to attempt to save their marriage. This may not sound like much. But my other divorce lawyer friends may go years without having such a client.
I attribute my high numbers to the fact that I am simply reminding my clients there is another option. When they're caught up in the emotional strain of a divorce it's easy to focus on hurt feelings and be blind to another way out.
I am a firm believer that if divorce lawyers spent more time reminding clients about other options that more of them would seek reconciliation. After all, I believe in my heart that the best possible outcome for most divorce cases is for no divorce to take place at all.
I have divorce lawyer friends who laugh at me when I say this. They say, "Sean if the divorce doesn't happen then who's going to feed your family?" They have a point. But I believe God blesses my efforts and so far I've never had a problem feeding my family.
At the end of the day I believe most lawyers went to law school with the idealistic dream of making the world a better place. Though many lost sight of those ideals once they got sucked into the stress and the pressures of practicing law, I have held fast to my ideals because they are tied tightly to my faith.
For those reasons I hope one day I'll be that old timer people talk about who inspired other young aspiring Christian attorneys to make this world a better place even through the practice of divorce law.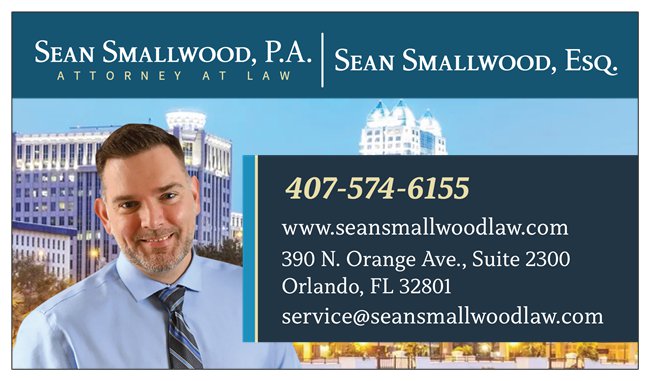 ​​​​​​​Sean Smallwood is a divorce attorney in Orlando Florida, a father of six, a Christian, public speaker, and blogger. You can find out more about him at:
https://www.affordablefamilylawyer.com/orlando-divorce-lawyer/