Last Sunday I walked in my third parade in only two weeks. And all week long I can't stop singing "
I Love A Parade."
Since moving to Savannah four years ago, I've marched in at least 15 parades. This town grabs every chance it can to celebrate, and so do I. We even have an annual celebration in February commemorating the founding of the Georgia colony.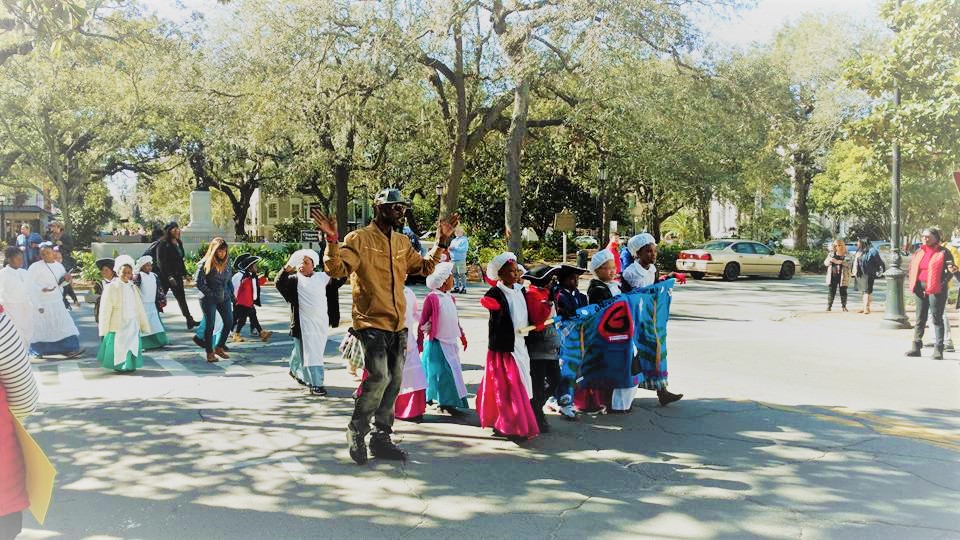 "Is this number three or four for us?" I remember asking my friend MJ back in January. We finally concluded it was our fourth MLK Jr. Day parade marching with the Episcopal Church.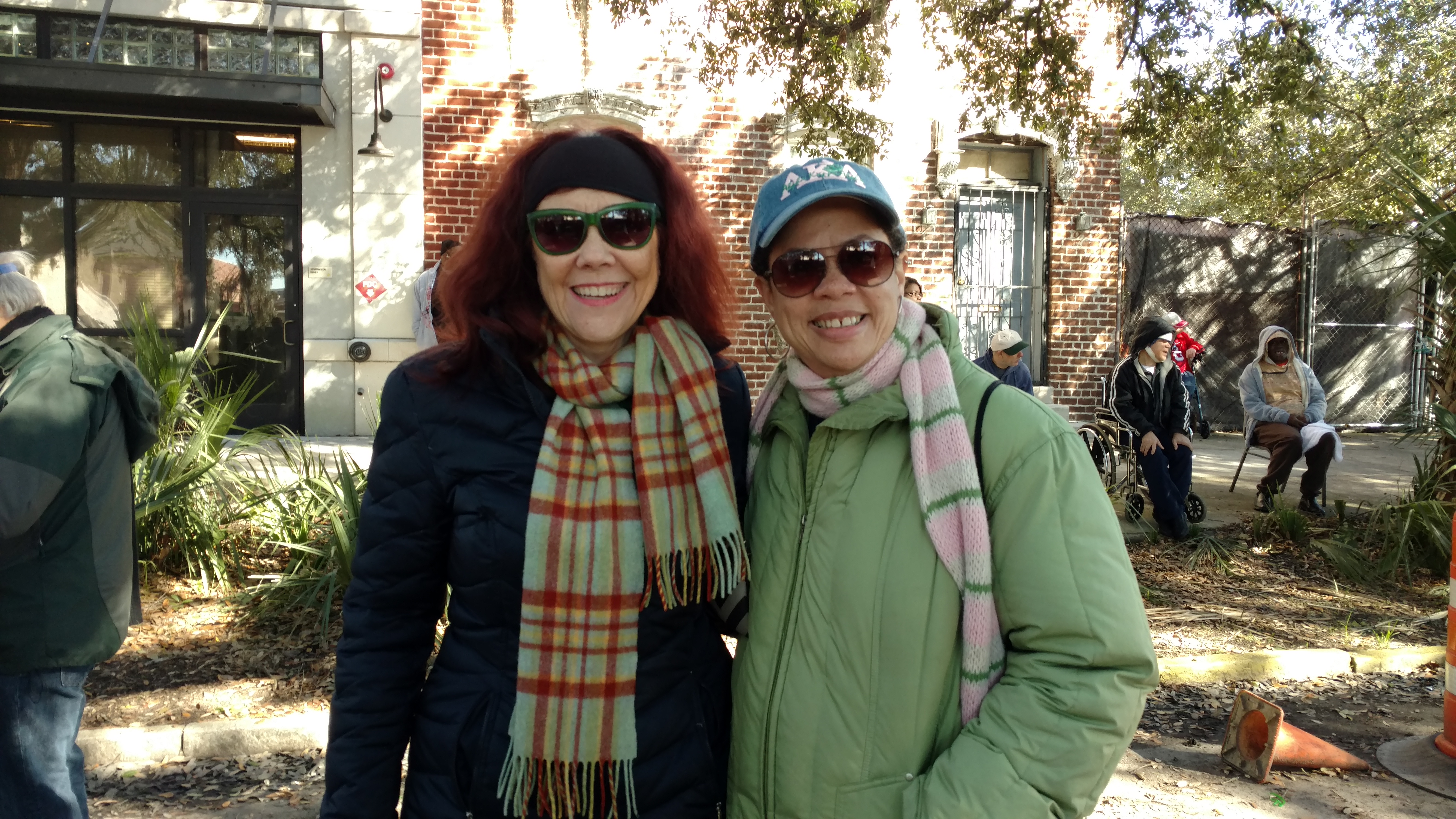 We often have live music on the diocese float. But this year we made our own, bursting into song as we turned the corner at the end of Broughton Street onto Martin Luther King Jr. Boulevard, the western gateway to the downtown historic district. We sang "Amazing Grace" and "We Shall Overcome" and a finale of "God Bless America." Singing these songs together on a brisk Monday morning gave me a renewed sense of hope that all that overcoming was indeed possible.
With so much awry in our country, blessings can often seem in short supply. Sometimes, of course, I forget to look for them. But whenever I march in a parade somewhere inside me a swell of happiness rises up, and a smile explodes on my face.
I love a parade!
From the end of high school until I moved to Savannah, however, I only remember attending two parades in all that time. The first was a Labor Day kiddie parade on Fire Island, off the coast of Long Island. My ex and I wheeled our one-year-old daughter along the boardwalk in her little red wagon which we decorated with flags and red, white and blue streamers. She wore my short silk robe as a cape and a Statue of Liberty crown made of aluminum-foil covered cardboard, with a banner across her pink dress that read "Little Miss America." In one hand, she held red carnations, in the other, a bag of Pepperidge Farm goldfish.
Three years later we landed in Paris on Bastille Day, checked into our hotel, and went out to stroll the Champs Elysees, not realizing we were about to run into a military procession. From her perch on my ex-husband's shoulders, I hoped my four-year-old daughter hadn't noticed all the half-clad women lounging atop several nearby awnings. That night we watched the fireworks that rose above the Eiffel Tour.
And then about two decades passed, until March of 2014.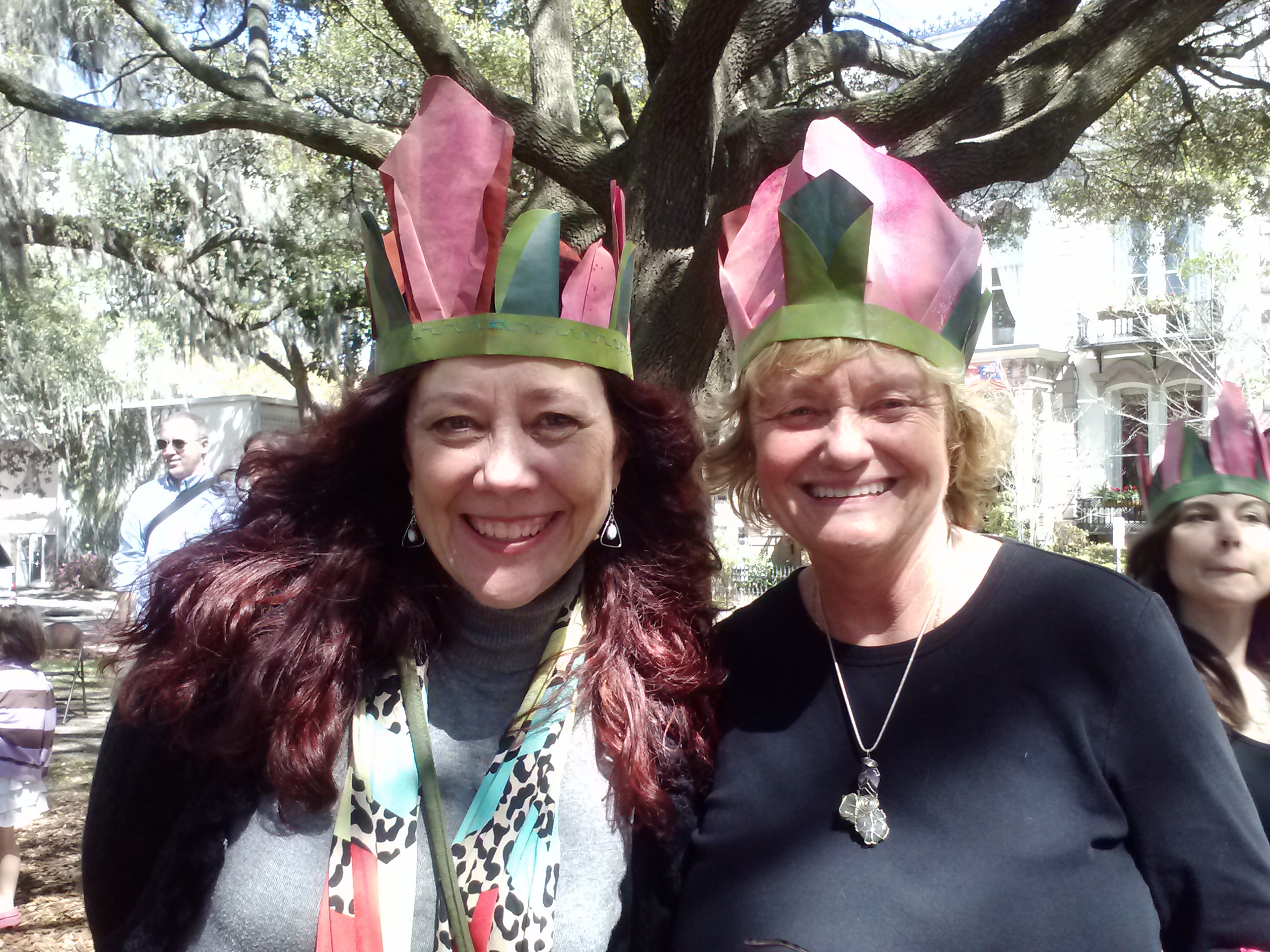 A woman I met in Savannah invited me to a small parade she'd heard about in Lafayette Square in honor of Flannery O'Connor's birthday. We strolled down Abercorn Street and came upon the strangest scene -- live chickens, strolling minstrels, someone dressed as a gorilla, and women wearing old-fashioned hats, gloves, and shirtwaists. Some guy held a sign that inverted two of the words in one of Flannery's most famous short stories, "A Good Man is Hard to Find." A local artist had made azalea crowns, and my friend Sharon immediately donned one. I repeatedly said I'd rather not – I felt conspicuous back then – but my friend waved off my concerns. Lucky for me.
Last week I attended my fifth such parade. Here I am with my friends, the Flojos. It's become a yearly tradition for us to have our portrait taken in front of the painted peacock. I now have my own small cache of hats, gloves, and vintage pocketbooks.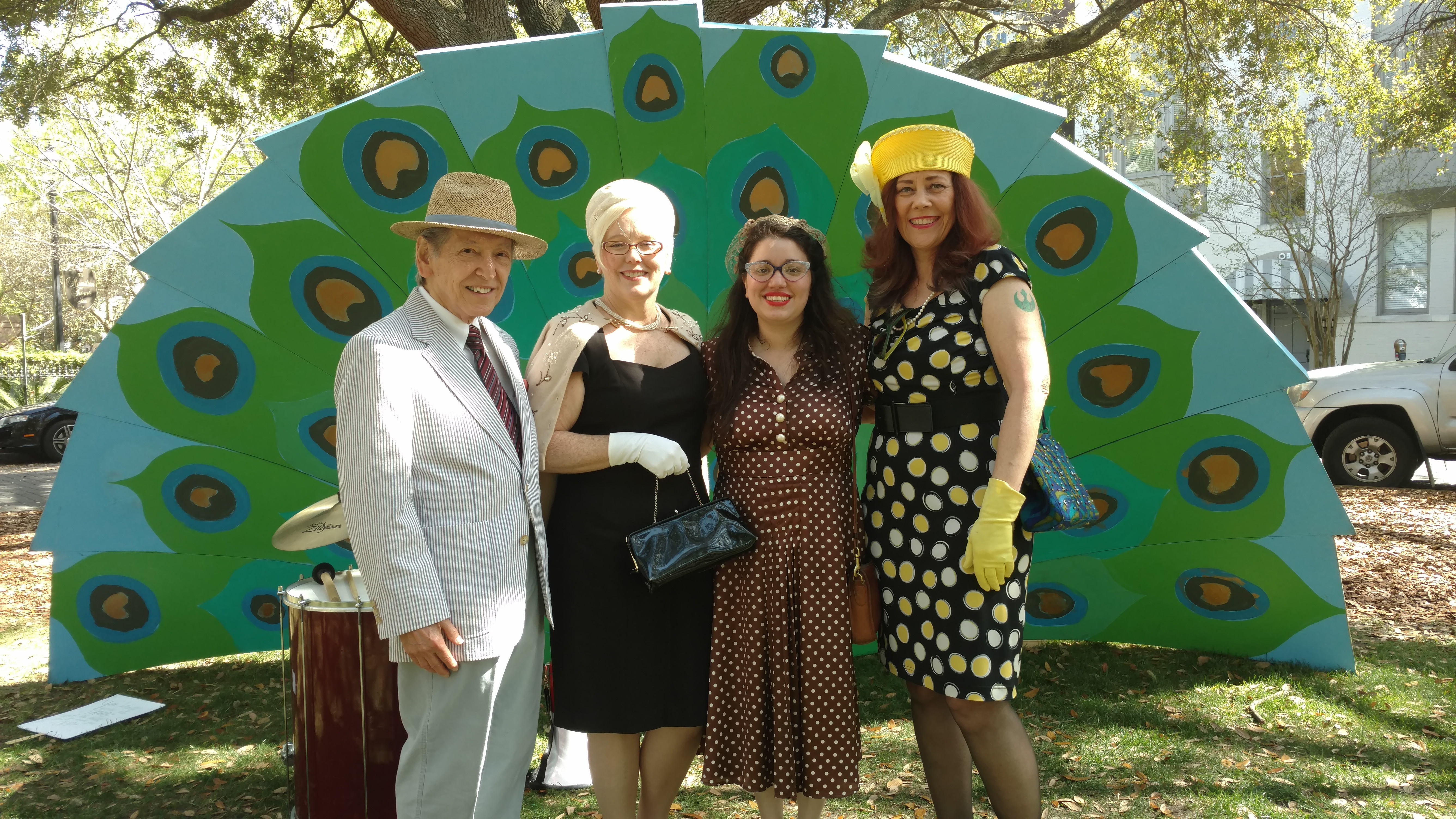 The week before we waved our shoulders off in Savannah's St. Patrick's Day Parade, the second largest in the country. There were a few signs protesting the Vice President's visit to our fair city – and I would never trample on anyone's First Amendment rights – but for the most part, our parades are politics-free and that's generally the way I like them. After all, the number of events that bring people of all types and persuasions together side-by-side with no agenda other than to have a good time seems to be dwindling. Maybe I'm naive, but I like to think those opportunties can open up possibilities.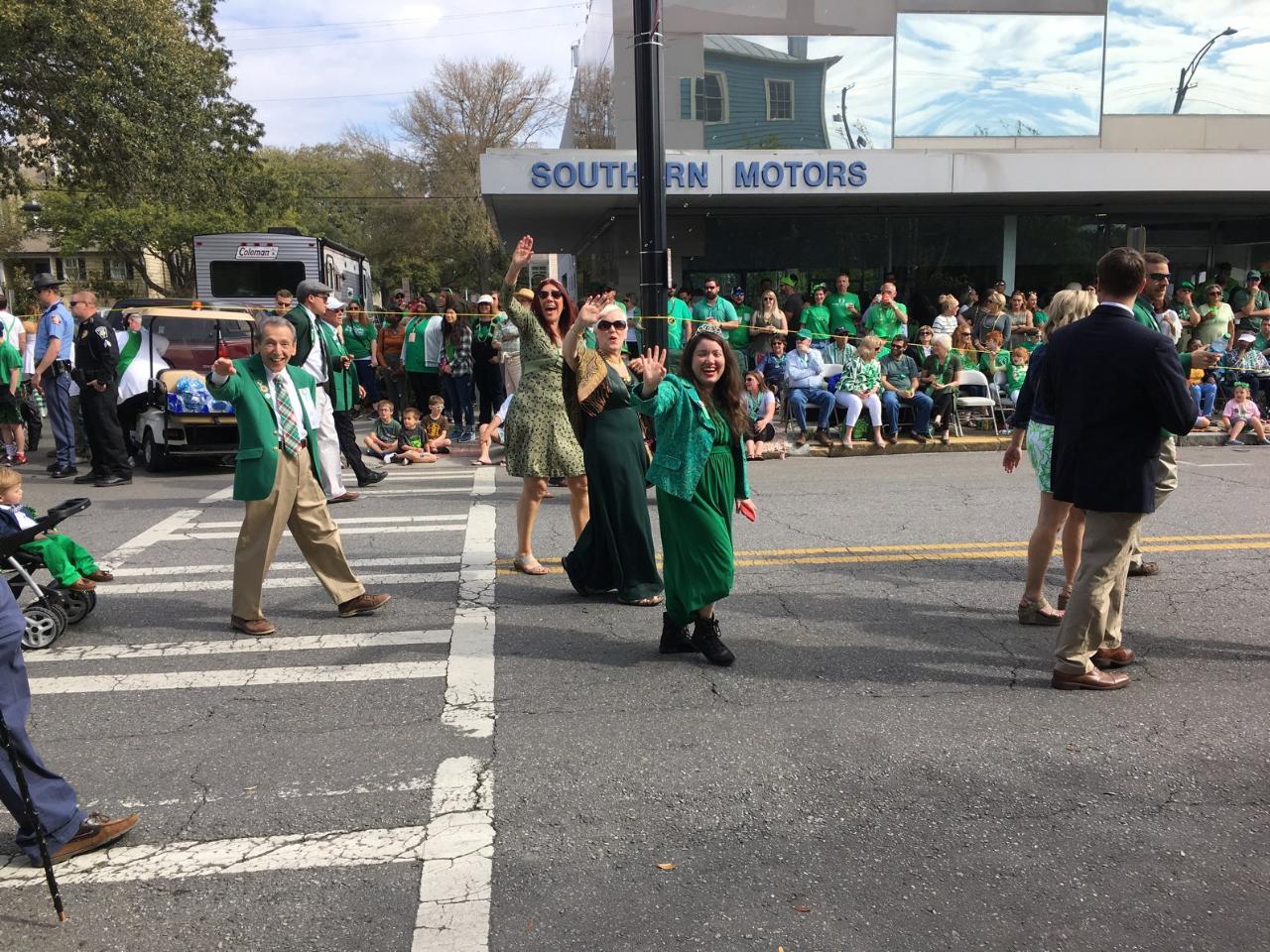 I love a parade!
It's great fun stringing a strand of Mardi Gras beads around the neck of some kind face in the crowd, too. This past year I looked for strangers who didn't have any beads yet, who weren't shouting "gimme, gimme," someone shy perhaps like I used to be. The best part is that brief moment of fellowship that arises during the simple exchange of a necklace. It sounds corny, I know. But I'm addicted. Good thing we had lots of necklaces to hand out! I love a parade.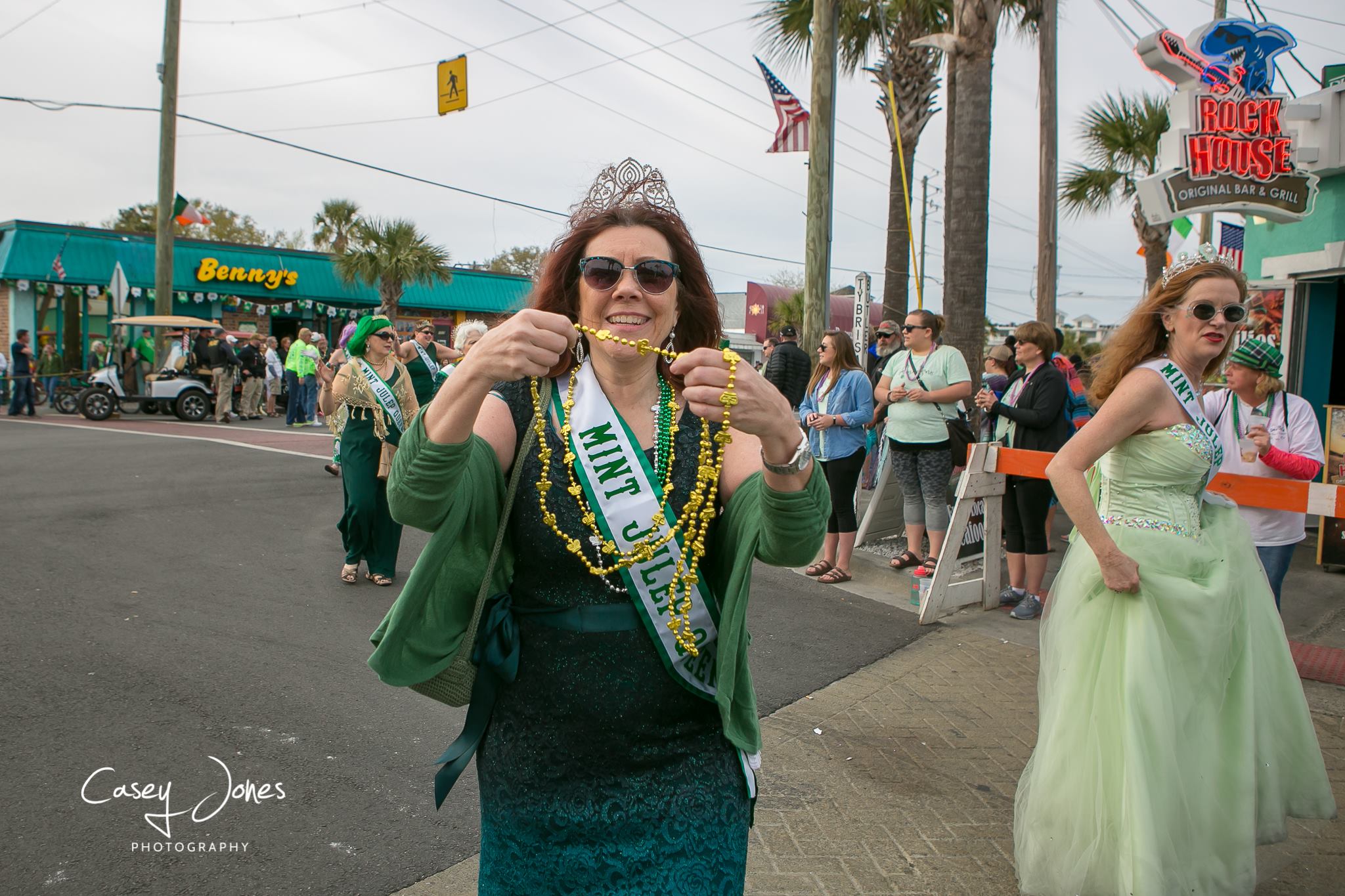 I wear gowns and crowns and sometimes tennis shoes if the parade is miles long instead of a simple march around the square. I can't wait for the nighttime Christmas parade when I can wear my twinkling lights.
At 17, I was crowned the State of Maryland VFW Buddy Poppy Queen. I remember feeling so proud to represent disabled veterans. But I also loved riding in convertibles behind marching men in precision-cut military attire. For years after, though, I was mortified by my small-town origins, especially as a professional living in New York City. Parades seemed so quaint and small-town. Whatever could I have been thinking?
Because I love a parade! Don't you?